Full Service Internet & Social Media Marketing
You're right! It's unbelievable!
Can you believe that small business owners spend $1000, $2000, even $3000 a month marketing their business online with NO return on their investment?
Neither can we, but it's happening right now...  
Since we started developing websites in 1995, we've met thousands of frustrated home and small business owners, CEOs and CFOs of businesses and organizations (many non-profit), marketing directors and even individuals who have one very similar challenge:
They're spending money marketing online BUT have no idea if it's working.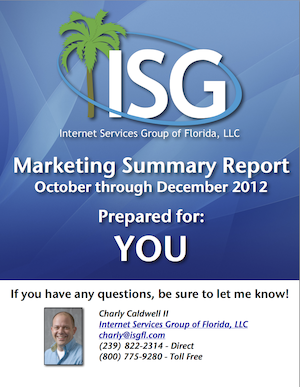 In our monthly or quarterly (your choice) Marketing Summary Report - we showcase your online results through 3 success markers:
The awareness you're generating (how many times you're seen in search results, how many visitors you have on your website, blog, business listings, social media pages, videos, etc.),
The leads you're generating (how many visitors have made themselves non-anonymous to you by calling you, contacting you, or at least giving you an email address so you can create, build and maintain a relationship with them), and 
The sales you're generating (how many of your visitors have actually purchased from you, either by calling, contacting, and if applicable - buying on your website or coming into your store.  We also help you understand how they found you, initially - search, social media, email marketing, other websites, etc).
If you're marketing online right now and do not have your finger on the pulse of these success markers - you're probably spending money unnecessarily and need to change that RIGHT NOW.
Where should I devote my efforts, online?
Today, having a healthy online presence is much more than just having a website, and in some cases, it may not include a website at all! 
Yep, we just said you may not need a website to create success online. (Interesting times!)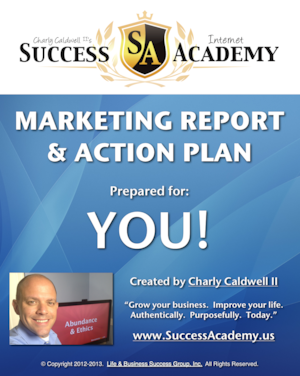 How and where your message is positioned online, today, is completely dependent on where your audience is online:
For most, that's reaching out to the learners, shoppers and buyers in search (Google, Bing, etc).
For others, it's being listed in the Business Listings (such as Google Local Places) so you're showing up in the "pinpoint listings" for the ever growing mobile market.
For some, it's having a well defined Social Media campaign in LinkedIn (typically, for businesses or organizations who serve businesses) or in Facebook (typically, for businesses or organizations serving consumers).
Once you help us understand who your audience is (and their challenges, along with your unique way of serving them), we create a very comprehensive Internet Marketing Report and Action Plan that includes your Marketing Report which reviews:
The specific things you should, and should NOT being doing online today.
A review of who your audience is, their challenges and your uniquenesses.
An overview of today's online mindset of success.
A review of the best techniques and best practices for reaching your audience online, whether their learners, shoppers or buyers.
How to create, build and maintain relationships with your leads (especially the learners!)
Exactly how to test and measure what's working (and what isn't) from the awareness, leads and sales perspectives - so your strategies can be improved or removed, concentrating on those that bring the best results.
And your Action Plan which reviews:
A complete Marketing Plan (with checklists) for creating your Foundation, 
A complete Internet Continuity Plan telling you exactly how often to create content, what to say, where to participate online, and how often.
Who does the work?
In terms of implementing your Action Plan, it works one of three ways:
It's on you!  You (and your team, if applicable) do the work on your own.
A combined effort!  You and your team do some, we do some, and it's clear who's doing what - we use an online project management tool called BaseCamp for the ultimate clarity.
It's on us!  We do the work - you watch and approve what we're doing via BaseCamp.
In terms of pricing of #2 and #3, that's completely depending on how much is being done and how often based on your Continuity Plan in your Action Plan.
Internet Marketing Continuity Plan pricing ranges from $2000 to $4500 a month, however, custom plans can be created for lower monthly budgets.
Where do I start?
It's ultra-important to assure we both have a very clear understanding of these three elements (all reviewed in our Starter Worksheet) BEFORE committing to having a website, blog (or anything else) created online: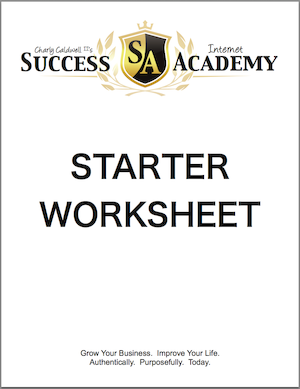 Knowing your customers - which of your services, solutions or products are most fulfilling, most desirable, and most profitable?  Experience shows when you prioritize those very things it gives us the ability to specifically target where where your potential visitors are online, how they search AND it assures we're attracting the RIGHT visitors for you, whether they're learning, shopping or buying.
Knowing their challenges - for each of your services, solutions or products - what's the visitor's biggest challenge, frustration, pain or fear? What do they dream of, what's the outcome they're hoping for or what's the opportunity you can give them?  
Knowing your uniquenesses - How do you magically bridge the gap with your solution between their challenges and them reaching their dream, outcome, or the opportunity?
If you have a purpose driven business or organization, we recommend completing our one page Purpose Worksheet too (after watching Simon Sinek review the importance of knowing your purpose) which plays a key role in creating even more emotional resonance with your visitors.
How your healthy online presence is created (Your Foundation) and maintained (Your Continuity Plan) will be determined by the answers you provide in our easy to fill out Starter and Purpose worksheets.
REMEMBER - The more we know, the more success you have!
If you believe were a good fit for you, you can:
We'll review with you how to get our Starter Worksheet and our Purpose Worksheet along with the next steps for assuring you're building a successful foundation and continuity plan for reaching your online goals.
Enjoy and we wish you the best success online!