Internet Consulting, Coaching and Training
How Do I Know What To Do (& Not To Do), Online, Today?
It starts by knowing the answers to these questions:
What's your 'end of day' goal, online?  
Are you using 'best practice' to reach it?
Are you clear to Google about who you're trying to attract?
(Most aren't!)
Do you know which of your services, solutions or products are most profitable?
Have you clearly thought about the words
your target audience uses in learn, shop and buy mode
for each of your services, solutions or products?
How is your target audience participating online?  
Through search (Google)?  In Social Networks?  
In business listings, forums, and groups?
How are you going to uniquely connect with them?
Are your existing customers reminded of the ways you can help them?
(Or are you leaving money on the table because they aren't?!?)
Whether we do the work, you and/or your team do the work, or we work together...
It's ultra-important to have complete clarity about these 3 things:  
Knowing Your Customers - prioritizing your most fulfilling, most desirable, most profitable (and maybe, least risk) services, solutions or products!
Knowing Their Challenges and Dreams - showing them how your each of your services, solutions, or products bridges the gap!
Knowing Your Uniqueness - describing how you do it with excellence, distinction, presence, care and compassion - different than your competitors!
and if you really want to knock it out of the park, online, this too:
Knowing Your Purpose
Vibrantly painting the picture of how you
can help your customers improve their lives, grow their business, or both!
Learn how businesses that are ultra-successful know, and live up to, their purpose.
How We Help You...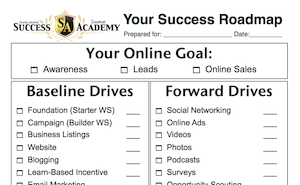 Since 1995, we've been helping businesses, organizations and individuals truly use the power of the Internet to improve lives, grow business and in many cases, both. :)
Today, we start with creating complete clarity about your customers, their challenges, your uniqueness and your purpose through our Starter and Purpose Worksheets.
Once that's complete, we do the research and create Your Success Roadmap - showing you where you should (and shouldn't) devote your energy & prioritizing it based on your online goal.
Once Your Success Roadmap is created and we've reviewed it with you - we can help the following ways:
Internet Marketing Consulting
Helping you understand exactly where you need the help (your website? your blog? landing pages? content? video?) and providing you the exact plan, education, and support to make the right changes and, possibly additions, that make the biggest differences.  
If you (and your team) don't want to do the work - we offer Full Service Internet & Social Media Marketing - and have a great system of accountability in play to assure you're not only completely taken care of, but have very easy to understand monthly or quarterly (your choice) reports, showing you your results!
Internet Marketing Coaching
Coaching you and your team on exactly how to create, build and maintain success online today - while holding everyone completely accountability to clear outcomes and deadlines, along the way.
We love the power of online collaboration via Skype, and Google Hangout, along with the online project manager, BaseCamp, and the ability to deliver the educational and tactical videos that are there when you need them! ;)
Internet Marketing Training
Training you (and your team) on how to create, build and maintain success online today - this can be done over days, months, in person or remotely.  We have online courses, a DVD, and workbooks that continue to provide perspective on using 'best practice' as well.
We offer 1 day, 3 day, and 5 day deep-dive training, on location (world-wide)!
How To Win, Online, Today!
20 years of experience and here's the simplicity of what we've found that generates the success most dream of:
understanding the 4 elements of success (knowing your customers, their challenges/dreams, your uniqueness and having a well defined purpose), 
knowing your 'end of the day' online goal, and then, 
using 'best practice' to do the WORK - continually, consistently, and thoroughly!
If you believe were a good fit for you, you can:
We'll review with you how to get our Starter Worksheet and our Purpose Worksheet along with the next steps for assuring you're building a successful foundation and continuity plan for reaching your online goals.
If you'd like to get started, learning, right away, access our free educational videos!
Enjoy and we wish you the best success online!